Celebrate Mardi Gras in New York City
This entry was posted on February 24, 2017 by Hundred Dollar Suits.
Mardi Gras is underway, and if you couldn't afford a flight to New Orleans this year, we have you covered. Mardi Gras, or "Fat Tuesday",  starts on Tuesday February 28, 2017. This New Orleans tradition began years ago as a celebration that takes place the day before Ash Wednesday. The tradition originated in Europe and was a way to celebrate the end of indulging in meat. With years of history, New Orleans has flourished with this carnival celebration and everyone wants to be a part of the culture and movement. Here in NYC, you too can be a part of the festivities without being on Bourbon Street. Check out these Mardi Gras events that you can get into while living in the five-boroughs.
"Mardi Gras Madness" with George Clinton and Parliament Funkadelic- BB KIngs
Tuesday, February 28th
Showtime : 8 PM
George Clinton and Parliament are bringing the Mothership to the city that never sleeps! Their 19-day tour kicks off in Pittsburgh, PA and is making it's way to BB Kings, located in the heart of Times Square, on February 28th. This legendary group will be celebrating Mardi Gras with their famous-funk classics to start off Mardi Gras in NYC. You can Purchase tickets for this event while seating is available.
"Mardi Gras Party"- Drom (85 Avenue )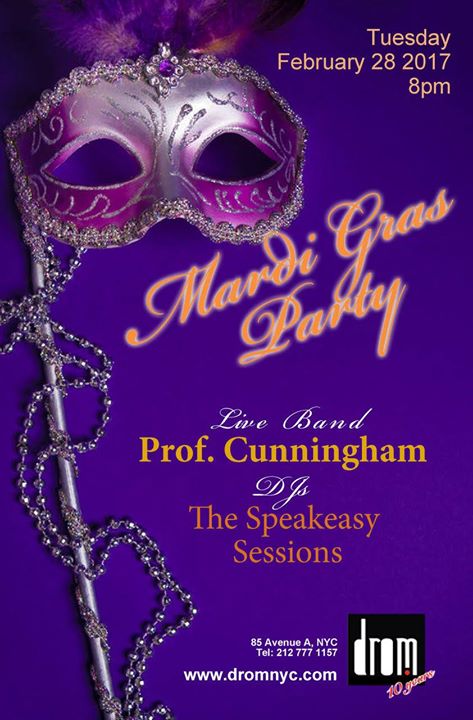 Wednesday March 1-2
Showtime: 8 PM
For all of you who are into the cultural aesthetics of Mardi Gras, you should definitely make you way to the Drom on 86th Avenue. The venue will display a host of talents that will be playing authentic New Orleans styled Jazz and swing music. This band will have you in the Mardi Gras mode in no time. Purchase your advanced tickets for this event here.
"Mardi Gras Madness Crawfish Boil"- The Hall
Today at 7pm
If you are in the mood in finding some place tonight, make your way to the Mardi Gras Crawfish Boil located in Williamsburg at The Hall MP. Tickets are starting at $15, and you can enjoy some amazing New Orleans crawfish while indulging in some great cocktails. This will definitely get you the Mardi Gras spirit. Don't miss out. More information on the event can be found here.